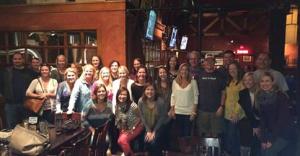 This past weekend was the final leg in our month long 'marathon of travels'. My wife and I went to New Hampshire and Maine for the New England Double (marathon/half marathon in NH on Saturday and Maine on Sunday) so that she could knock out 2 more states in her quest to run a marathon in all 50 states (11 remaining). We came home to unpack and repack in order to take off for KY to run the Bourbon Chase Relay  (whew!). Then home again before we went to Chattanooga to cheer on and 'run in' Run University runners tackling the 4 Bridges Half Marathon and 7 Bridges Marathon.
As dawn broke in Chattanooga (it's still dark in the Eastern Time Zone at 7:00!!) we soon discovered that the moon was in the 7th House. It was a perfect day weather wise and running wise it would only get more 'perfecter'. For virtually everyone we knew last Sunday was magic and you could see it in the runners faces as our Half Marathoners ran across the Walnut Street Bridge on their way to PR after PR (Personal Record also known as Personal Best). We totaled out between 17 and 19 PR's in the Half Marathon. It was well deserved after a hot, humid summer of early Saturday long runs and steamy evening speed work. Even more exciting was their presence; they were smiling, high 5ing, and having a great time, acting more like Mile 1 than mile 13. I mean a PR is great, but a HAPPY PR is something to write home about (do people even 'write' home anymore – heck we don't even have collect calls…remember those?).
Then the marathoners came through and out of Run U's 6 marathoners there were 5 PR's (additionally counting one runner's PR the day before in Kansas (she's not in Kansas anymore….though) then we had 6 out of 7).
It's nice to claim a team victory, but running is very individual. The group helps, but in the end (middle and beginning) you are ultimately responsible for your own success. I hate to add 'or failure' because really in running there is no failure – only results. Your either hit your goal, or you didn't – and that's the result.
The key question is, "Did you have fun"?"
I've had races where I ran great but it wasn't that much fun and others where I ran ok (or awful) but had a great time. As I've said a million times before, it's all in your attitude.
We're blessed to be able to run! About a week ago in a 12 hour period I saw the sunset then the sun rise and it was magnificent. To paraphrase Inigo Montoya (Princess Bride), "I wonder if I was seeing the same sun each time." ("I wonder if he is using the same wind we are using"). That day inspired several days of running bliss.
To me the fun is in the doing, the sunrises, sunsets, running companions and most important the joy I see in others countenance when they finish not only a race, even the runs the weren't sure of. My PR's are way behind me now, but there's still so much joy ahead I've yet to see and experience.
As Jimmy Buffet once said, "There's a fine line between Saturday night and Sunday morning." So keep working on those new goals and have a little fun doing it; see the sun, notice the stars, do a little dance, make a little love along the way.
Having a positive attitude, that's the first and most important step to wanting to chase a goal, whether it's a PR or running your first 5K, 10K, Half or Full. The battle to win? It starts from within….
Every so often Jupiter will align with Mars and love will steer the stars and while you may not have a PR you should have a damn fine time chasing it.
Run University's Half Marathon Training Party…..er, Program will start 11/15; too much Buffet, I guess. Whether it's your first one or you want a 'faster' one I hope you'll consider Joining Run Universitys' group training ($99 for the 14 weeks). We've been coaching groups since the first running of the Mercedes Marathon and Half Marathon.